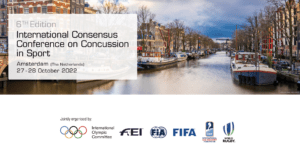 From the Official Website:
"The 6th International Consensus Conference on Concussion in Sport will be held in Amsterdam, from 27 to 28 October 2022. The organizing federation for this Consensus Conference is the International Olympic Committee (IOC). The sponsoring federations are the IOC, Fédération Internationale de Football Association (FIFA), International Federation for Equestrian Sports (FEI), World Rugby (WR), International Ice Hockey Federation (IIHF), and Fédération Internationale de l'Automobile (FIA), with a separate Scientific Committee coordinating the program.
Concussions are in the spotlight more than ever. For this reason, the IOC, IIHF, FIFA, WR, FIA, and FEI have taken a lead role in organizing this Conference, together with an independent Scientific Group.
The purpose of the Conference is twofold. The first objective is to present a summary of new evidence-based summaries that span the spectrum of concussion, from definition to initial management, investigations, treatment, return to play protocols and prevention"